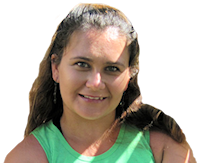 Jean here from Jean Shaw interviews.com and today I have the pleasure of chatting to royalty because Melissa Cohoe is fondly known as the 7Minute Workout Queen, and for good reason if you ask me.
Melissa was one of the founding members of the online health and fitness program which is destined to change lives and is certainly a product of the product.
When I first met her, she had just set up a blog called My 100lb weight loss and was intending to very publicly chart her progress.
It was a completely new journey for her because at that point she didn't really know much about blogging or the online world, but how things have changed.
Fast forward one year and Melissa not only has her blog up and running, but is a media expert and hosts her own regular weekly webinars, as well as often being called upon to assist and takeover those being run by others.
When Melissa is called to step up to the plate, she does so efficiently, confidently and with such sincerity in her voice you just want to smile.
She's a real gem and a much valued member of the 7MinuteWorkout community, as practically single handedly, she deals with all the member issues, large or small.
So, let's say "hello" and see how Melissa is getting on with her weight loss journey.
Melissa Cohoe - 7Minute Workout

Also listen to my interviews with Chris Reid, Joel Therien and various other 7MinuteWorkout members on this site.