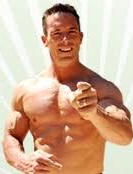 It's Jean Shaw here and today I'm once more chatting to Joel Therien who is currently best known as the CEO for Global Virtual Opportunities, the incredibly affordable hosting and marketing solution for anyone wanting to do business, or indeed create a business online.
However, today our topic of conversation is about something completely different, and is, infact, Joel's real passion – heath and fitness!
Joel is a self-confessed "health nut" and has been a fitness fanatic since he was 11 years old so has accumulated a vast amount of knowledge over the years.
Together with his long time friend Chris Reed, whom he's known since Kindergarden, Joel has just released a revolutionary lifestyle program, which will undoubtedly send ripples of discontent through the fitness and diet industry because the title is The 7Minute Workout.
Intrigued?
I was too, that's why I became a Maverick member which is basically a test group of people who want to improve their health and fitness.
Anyway, the program is unique on many levels so let's have a chat to the man himself, Mr. Joel Therien and see what he has to say about this amazingly simple but effective program, which he hopes will educate enough people to prevent the diabetes and obesity epidemic sweeping most civilized countries...
Joel Therien - 7 Minute Workout
Please note: If you listen to the audio only without reading the transcript, here's the formula for working out how much water you should drink daily.
I'm afraid I didn't make it very clear- sorry!
It's half your body weight in pounds, in fluid ounces.
i.e. If you weigh 140 lbs, you should drink 70 fl. ounces.
Also listen to my interviews with Chris Reid, Melissa Cohoe and various other 7MinuteWorkout members on this site.