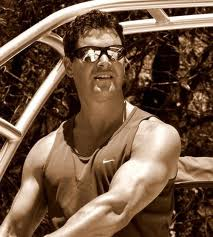 Today I have the pleasure of chatting to Chris Reid who is the the President and co-founder of the7Minute Workout.
I've never met this gentleman in person but I've watched him demonstrate various muscle building and strengthening exercises as well as listen to his live and recorded webinars, so I do feel as though I know him quite well, and that's important because the 7MinuteWorkout is a health and fitness lifestyle program which has the potential to change peoples lives in more ways than one so it's vital you can trust the people who run it.
The other co-founder is Joel Therien, whom I've interviewed on two previous occasions and I have to admit had I not personally met him, I may never have been inspired to check out the 7MinuteWorkout and that's because it makes an incredibly bold statement which is, you can get into the best shape of your life just exercising 7 minutes a day three times a week.
Now I don't know about you, but that sounds too good to be true, so today I'm hoping Chris will be able to explain why it's not just wishful thinking, but is, infact backed by scientific evidence.
Chris Reid - 7 Minute Workout
Don't forget to listen to my interviews with Joel Therien, Melissa Cohoe and various other 7MinuteWorkout members on this site.